Do you face sinus issues? Are you looking for instant relief from sinusitis
Look no further! Now thanks to our portable nebulizers that will provide you instant relief from trouble breathing!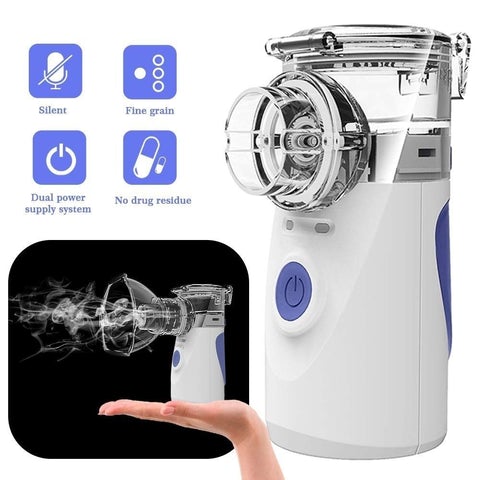 Portable nebulizers are compact devices that are designed for medication delivery directly into the lungs. Patients with an active lifestyle mostly prefer these devices.
Since tabletop nebulizers do not provide the advantage of medication delivery on the go, portable nebulizers offer this advantage. When patients with chronic lung diseases travel, a portable nebulizer will give better benefits compared to inhalers.
Portable nebulizers can more efficiently deliver bronchodilators and corticosteroids in these patients as the drugs are delivered directly into the lungs.
This portable Nebulizer creates a fine mist; the tiny particles are around 2-3micrometer. It will not wake your kids when they are sleeping. Lightweight and portable can be put in a purse to take anywhere!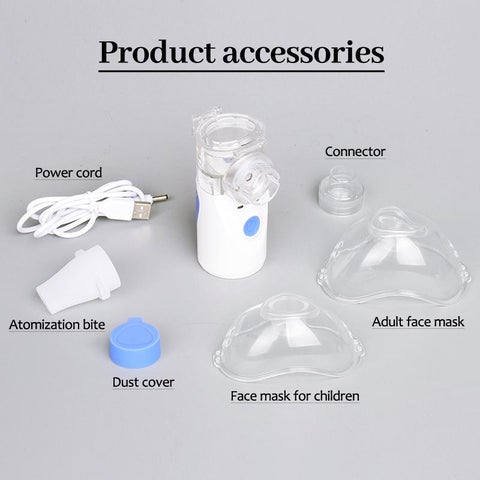 Pocket-size mini Vaporizer is easy to move and use on travel, home, office, and business trip. Handheld Portable Vaporizer Create fine mist to absorb tiny particles better; particles are less than five μm.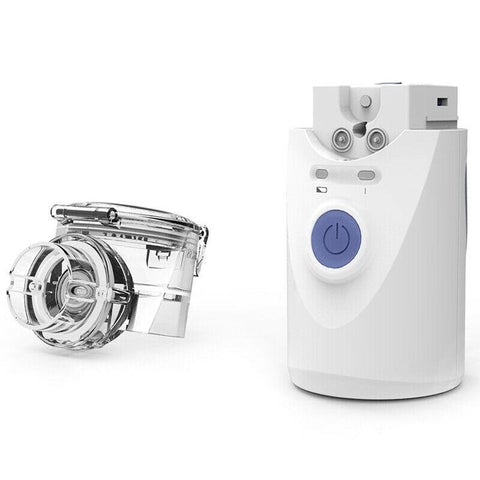 Press button operation to start a Portable Vaporizer machine and automatically shut off at 15 minutes. One more press to shut off immediately at any time.
It has low Power Consumption & an efficient recharging battery. It delivers three hours of working time after a full recharge. It can be used with a mouthpiece or mask; Suitable for all ages.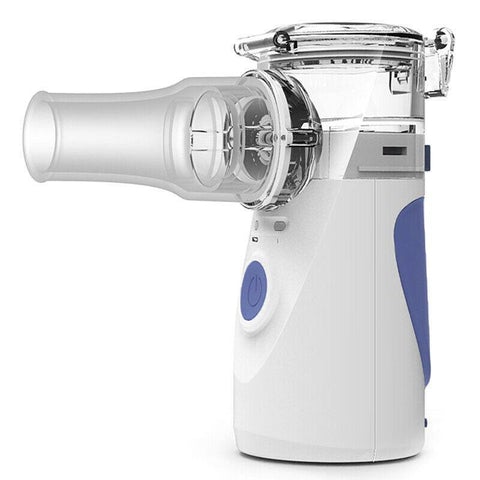 Don't Search further! Our portable Nebulizer is all that you need.
Click the Buy it now button and make the purchase now!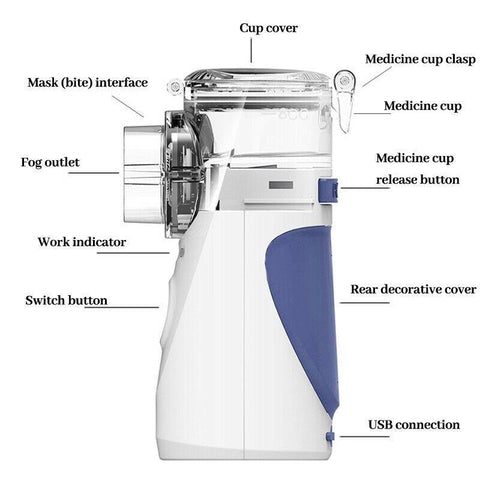 Features of Portable Nebulizer:
Personal Steam Inhaler: this Personal Sinus Steam Inhaler provides non-medicated warm steam for temporary symptomatic relief from cough, congestion & allergies in a quick treatment.
Quick & Easy to Use: Get fast relief in a short 5-15 treatment with this Vicks steam inhaler, no filters are required, and it's designed to work with tap water
Cough & Congestion Relief: This personal steam inhaler features an ergonomically designed face mask for targeted delivery of pure, 99 99% germ-free steam. Soothing steam penetrates nasal, sinus, and throat passages for fast relief.
Help With Breathing Problems: A personal warm mist humidifier helps naturally alleviate congestion, dryness, and irritation. It may provide sinus relief and help with specific breathing problems like allergies and colds with cough and congestion.
Delivers Comfort: At Mk Care, we believe that everyone deserves a touch of care. Our portable Nebulizer helps you breathe better and sleep more comfortably, wherever you are!
Our nebulizer can be used by kids and adults with either a mouthpiece or mask for maximum convenience.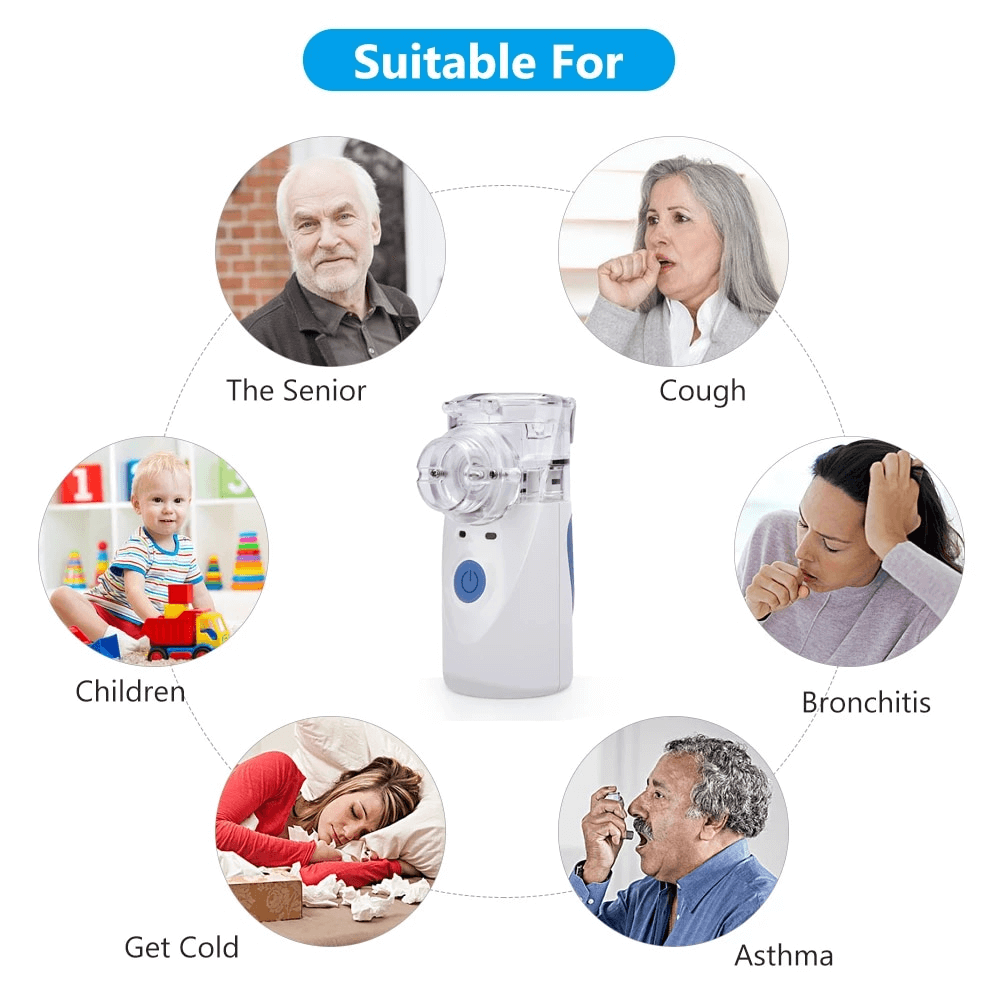 BENEFITS OF NEBULIZER™
✅  Reduces Anxiety & Emotional Stress
✅  Quick & Instantly Relief
✅  Save & Money Time
✅  Boost Productivity
✅  Suitable For Every Age
✅  Avoid Hospital Visits
✅  30 Day Guarantee
✅  SMALL, PORTABLE, AND EASY TO USE UNLIKE TRADITIONAL NEBULIZERS
✅  HELPS WITH COPD, ASTHMA, COMMON COLDS, AND ALLERGIES
✅  OPENS UP YOUR AIRWAYS WITHIN MINUTES
✅  VERSATILE & USER-FRIENDLY
✅  SAFE TO USE FOR ALL AGES
IT'S AS EASY AS BREATHING!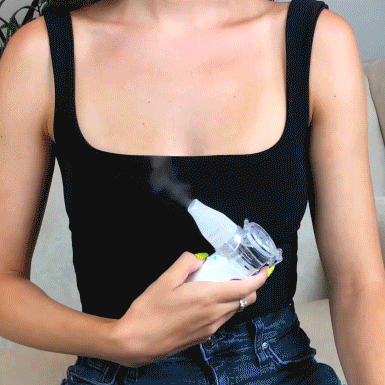 COMPLETELY SILENT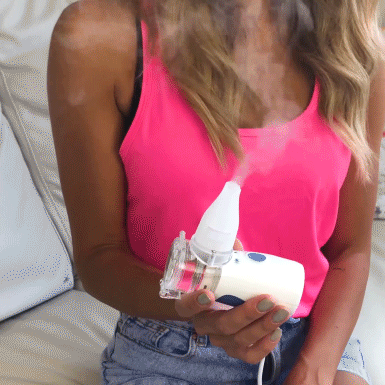 Enjoy noise-free breathing treatment relief!
Because it works on vibrations it's extremely quiet. It makes almost no sound. In contrast to old-fashioned nebulizers which make a lot of noise. You will never have to worry about waking anyone up during the night again!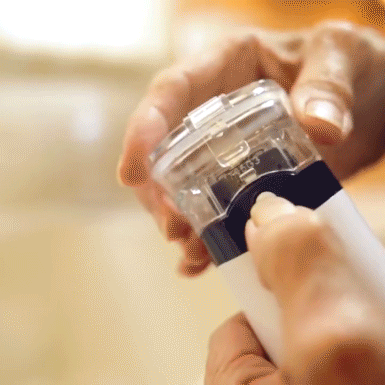 EASY TO CLEAN
It's important to clean your Breathe Right after each use.
The inclined medicine cup is made so that it can be used even when lying down and makes it easier to clean leaving less residue. Simply detach the medicine cup to clean it.
WHY DO I NEED NEBULIZER™
Looking for a way to prevent breathing problems? Our Nebulizer™ is a portable nebulizer device that uses advanced ultrasonic technology to quietly and efficiently atomize liquid so it can be inhaled. With regular use, respiratory diseases such as asthma, cold, flu, cough, phlegm, fever, sore throat, chronic pharyngitis, tonsillitis, bronchitis, etc. can be prevented. Some customers also report that it helps very well against COPD.
USE IT ANYTIME & ANYWHERE
You can use it anywhere and anytime, for example, while sleeping, traveling, at home and much more. The atomization process is as natural as breathing. The technology makes it possible to create a free breathing and at the same time absorb the liquid in the lungs by the constant and mild atomization. The nebulizer is super light and portable that you can take it everywhere with you.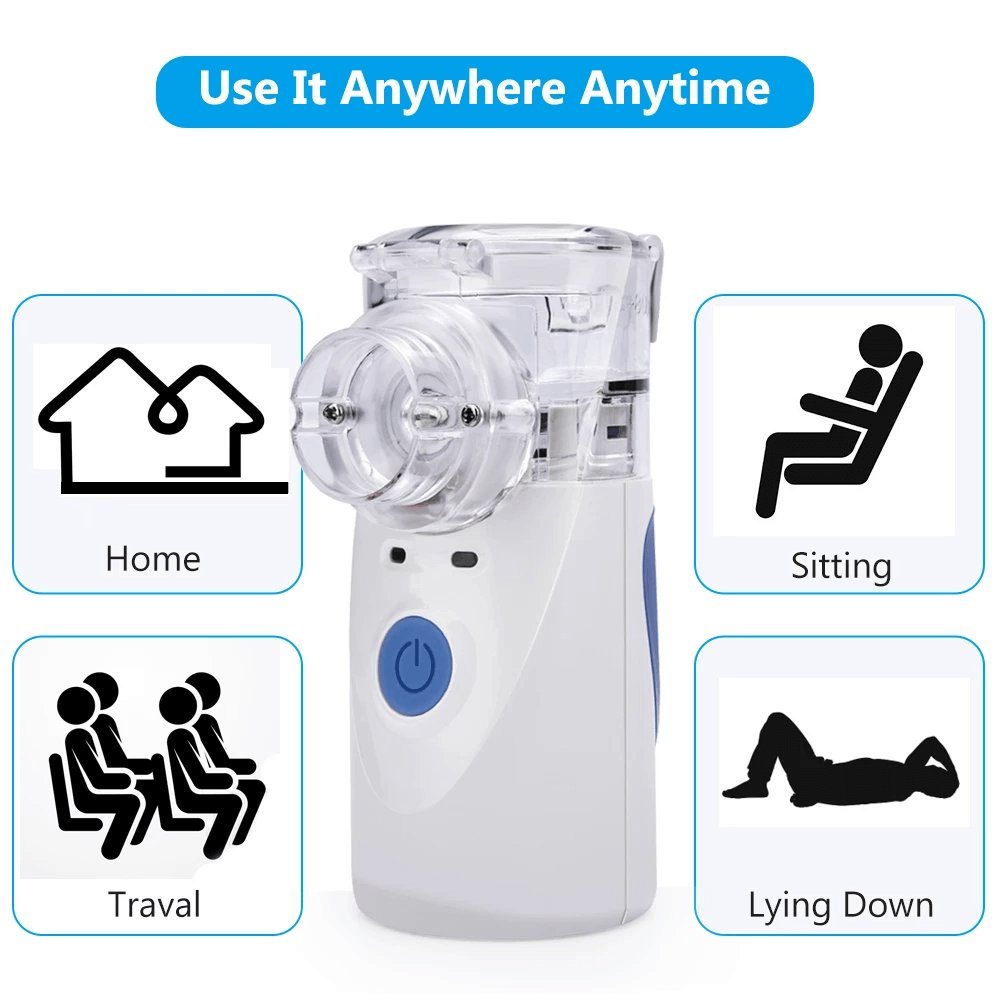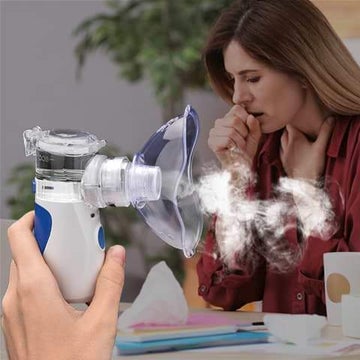 Get Rid Of A Cold Fast
Our Nebulizer can provide vapour therapy for common colds using only water or a saltwater solution. The instant fine mist deeply penetrates your nose, throat and lungs for immediate relief.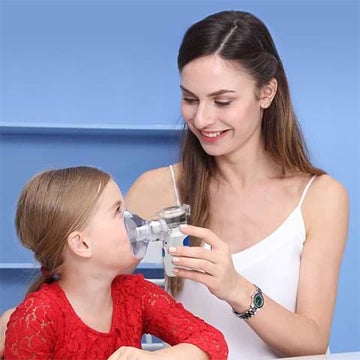 Safe For All Ages
Our Nebulizer provide a harmless mist that is made without using a heating source or boiling water, making it safe and suitable to be used by both adults and children! A special mask for children is included.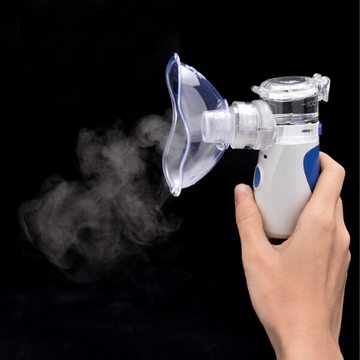 Ultra-Portable and Super Quiet
Ease your breathing quickly, whether you are at home or traveling. Our Nebulizer is powered by 2 AA batteries or a standard USB cable. Its also designed with a whisper-quiet motor that ensures nobody will notice while you use it. It will even work while lying down, unlike traditional nebulizers!

Rechargeable 

Less residue 

Low noise  
They Adopted Our Ultrasonic Portable Nebulizer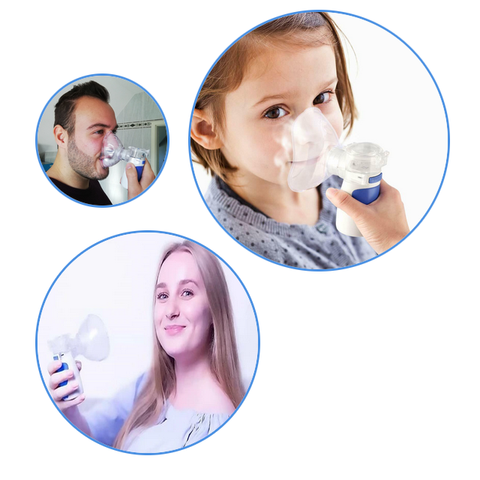 HOW DOES IT WORK?
Our Nebulizer™ creates an ultra-fine mist by using vibrations. It is very easy to use with its one button operation. To use the mesh nebulizer simply follows the 4 steps below.
1- Put in 2 AA batteries or use it with the provided usb cable to a power outlet  or power bank when on the go.
2- Open up the medicine cup and fill it up to the mark on the side with water or medication.
3- Put on your preferred attachment ( a mouthpiece or face-mask).
4- Press the button until the green light turns on.