Snufflefuss
An exciting food Snuffle Mat to activate and improve the mental state of your dog!
Boredom and lack of activity can cause anxiety and over-excitement by a dog.
The most effective way to prevent the dog from getting bored is to let them play with the Snufflefuss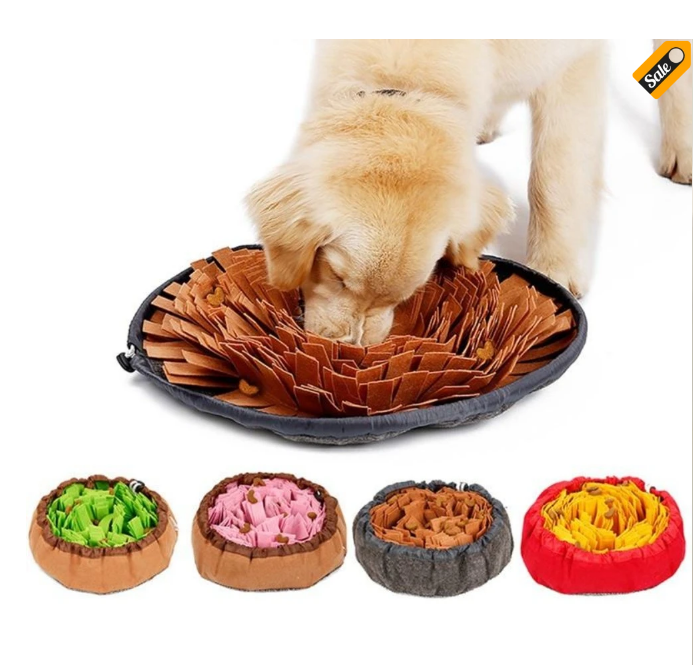 Benefits
promote mental stimulation

Stress Relief

Activate against boredom

Slowing down fast eaters
To track, burrow, sniff, and snort is where a dog's nose and brains are for. The nose and brains are here to WORK! Nose work or snuffling capitalizes on this natural desire to sniff, and there's no better time to do this work than during mealtime!
All this knowledge isn't a fairytale but proven and confirmed by science
4 Colors available
Lime Green

Coffee Brown

Ferrari Yellow

Pretty Pink
The Snufflefuss is suitable for all sizes of dogs
The Snufflefuss uses your dog's natural ability to snuffle and root around to search for things using their sense of smell. It keeps life interesting. Can you imagine endless days with nothing to do? It sounds like a great vacation idea, but if that were your whole life, it would be extraordinarily boring. Using a snuffle pad at mealtime breaks up the day, tosses in something new, and triggers thought. It literally gives your dog a job.
The Snufflefuss will provide lots of stimulation as they search for kibble or treats that you have scattered in the mat.
Mental stimulation can be tiring for your dog, so using the Snufflefuss can wear them out and help them relax!
Happy and relaxed after use of the Snuffelfuss
---