🐼 NEW CHILDREN VERSION ON SALE NOW !!! 🐼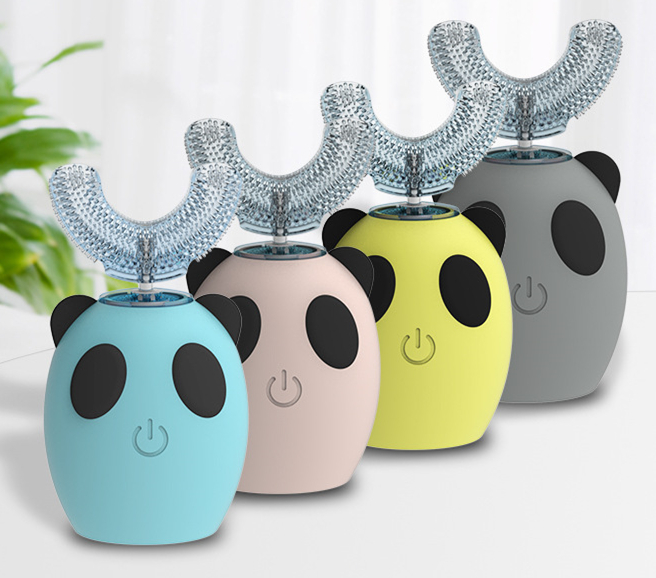 Do you also want Radiant White Teeth and Healthy Teeth?
The Whitening brush 360 ° electric toothbrush with whitening technology is exclusively designed to whiten your teeth and keep your teeth strong and healthy. The 360 ° formula really tackles your entire teeth. The toothbrush comes in places where you can never get with a normal toothbrush! The ease of brushing your teeth without the hassle. Easy to use when getting dressed or getting ready for bed! The Whitening brush 360 ° makes teeth cleaner and whiter in one!


✔️ Removes Bacteria. The Unique UV Radiation not only whitens your teeth, it also eliminates bacteria! Removes bacteria, plaque and food residues. Cleans in all areas of your teeth through the unique and new 360 ° formula. We have had to wait a long time, but now the technology is finally at our disposal!
✔️ Whiter Teeth. The effect of UV radiation makes your teeth visibly whiter in just a few weeks! The whitening technology has a unique effect that prevents the teeth from turning yellow. Grab attention with a white and radiant teeth that everyone would like!
✔️ Luxury Design. Our designers have pulled out all the stops to make the Whitening brush 360 ° Perfect for your bathroom! The design is new, contemporary and looks great in your bathroom!
✔️ Comfortable. The convenience of brushing your teeth while walking without messing. Meanwhile, choose your clothes for today or ready to go to bed? This can now be done simultaneously!

Intruction:
Colour: white/black/pink/blue
Charge:USB charging interface, wireless inductive charging base
Product size:about 1.2*2.6*4.5in
Modes: 3 modes(Soft cleaning mode/Strong cleaning mode/Whitening mode)
Frequency :5000-15000 times /minute
Waterproof :IPX7
1.After full charge, install U-shaped brush head.
2.evenly apply toothpaste to the U-shaped brush head.
3.Put the brush head into your mouth, relax the bite U-shaped brush head, and select the right frequency mode.
4.Easily touch your teeth, and shake your brush back and forth with your hands at the same time,
then brush your tooth more cleaner.
5.After brushing your teeth,use wet cloth to clean up the water and stagnation of the fuselage,
and try to avoid soaking in water.
6.Please read the instruction carefully.
Electric Toothbrush Package Include: