This design is all about the love in creatures, ancient empires, and the whimsical of the fantasy world. We combine all these ingredients to create the magical animal kingdom!
It creates truly unique jewellery collections and striking statement pieces. Our passion for the fashion and jewellery world is brought to life through the quirkiness and sophistication of our avant-garde creations. Our bespoke design pieces are made of carefully sourced and high-quality materials, meticulously handcrafted and delicately assembled. Our philosophy is centred on design-led and contemporary handcrafted jewellery, an integral part of our DNA.
CUSTOMER FEEDBACK
Our animal-inspired collections subtly marry intricate design motifs, Oriental influence and European iconography with a sprinkle of fantasy. Using unique handcrafting techniques and materials such as sterling gold,925 sterling silver, and natural gemstones and combining them with airbrushing, enamelling and coating methods, we create striking statement pieces which are playful, stylish and exclusive.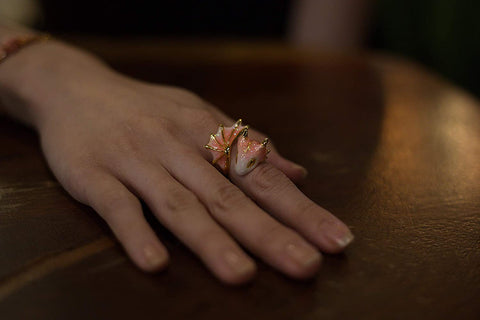 Specifications:
Material: 925 Sterling Silver/925 Pure gold
size: One size fits all (adjustable band)
Wight: About 15g
This ring can be worn by both men and women.